I made this a couple of months ago, and it's painted mostly with a strand of my hair! It gives a cool effect, and it's an easy way to get thin lines (shh, it's okay to cheat!).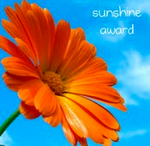 Also, today I was given a tag award, The Sunshine Award, from
It's Simple Love.
Thank you!
The rules are to tag 12 blogs of people who inspire me.
Unfortunately there are thousands of people who inspire me, many who don't own blogs! I only just started blogging also, so if I absolutely had to pick 12, I wouldn't know how to judge. Heck, I don't even have 12 followers yet. :$ So I decided that I'm going to forward this award to anybody who isn't blind*!
That's right!
(*some exceptions may apply)